Like freshly showered
Freshly washed laundry, the clean morning air or the feeling after the shower – we all love clean and fresh scents! No matter what season or occasion, we just can't get enough of them. That's why today we present you our favorites to send you a bit of the clean cotton feeling.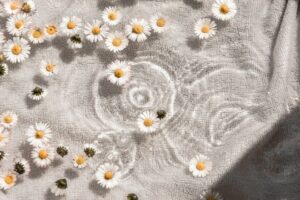 Laboratorio Olfattivo – MyLO
Inspired by the beautiful white lily, MyLo is a floral-powdery fragrance that immediately puts you in a good mood and is very light on the skin. Fruity-citrus notes of lemon and mandarin combine with soft-floral notes of jasmine, iris and rose to create a beautiful, pure fragrance experience. MyLo is perfect for everyday life, the certain good mood kick and definitely makes you want to be in the sun.
Jacques Zolty – Leonella
Leonella by Jacques Zolty is a floral and fruity fragrance reminiscent of warm summer mornings in a southern country. Tangy notes, jasmine and cane sugar combine with ylang-ylang and amber to create a perfect combination. The fragrance is reminiscent of a dense, colorful field of flowers in the spring and is perfect for everyday or vacation.
Lorenzo Villoresi – Iperborea
The elegant fragrance «Iperborea» by Lorenzo Villoresi can convince all along the line. Whether in the office, on vacation or on a romantic date – the combination of fragrant flowers, fresh citrus scents and precious woods is versatile. Jasmine, lily of the valley, mimosa, peach, orange and white flowers are reminiscent of the fresh sea breeze and the first rays of spring sunshine. Everyone who likes floral and creamy scents should try this fragrance!
Lorenzo Villoresi – Teint de Neige
Probably the most powdery of our fresh fragrances is «Teint de Neige». Jasmine, musk and rose form an incomparable floral, clean and powdery fragrance that is light and gentle, but at the same time intense and long-lasting on the skin. With notes such as jasmine, musk, rose and tonka bean, it is perfect for everyday wear and reminds us of the atmosphere of the Belle Époque.
Nejma – Le Délicieux
Le Delicieux from the house of Nejma is a unique floral-sweet fragrance with fresh citrus notes, floral notes such as iris, jasmine and rose and spicy pink pepper. The fragrance is rounded off by vanilla, caramel and amber. Le Délicieux is the perfect fragrance for a romantic date in a nice place or to wear that certain something in everyday life. Also perfect for those who like it a little sweeter!
---
Follow us on social media for more fragrance news, behind-the-scenes insights and spotlights on the most popular luxury perfumes. If you need help, feel free to drop us a line at [email protected].
See you soon, your PAFORY team 🤍