Here comes the sun!
The smell of sunscreen, temperatures above 30 degrees and good mood – for many the most beautiful time of the year, paradise! Hardly any other season stands for such a special, lively attitude towards life. However, it is often hard to hide from the hot temperatures – what is the best way to keep a cool head? I can't send you home with a gust of cold wind, but I still have a few tips for that light, summery feeling on your skin.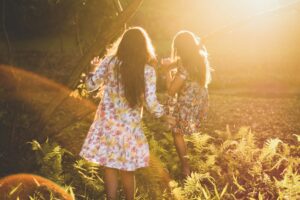 Blend Oud – Tupai Love
Like a bouquet of fragrant flowers: Tupai Love is a floral declaration of love to the island of Tupai with its blooming jasmine gardens, tropical weather and colorful sunsets in the evening. Sweet vanilla along with jasmine, rose and iris harmonize perfectly with citrus and woody notes: Wormwood and Cedarwood. The perfect fragrance for the beach or a city trip.
Evody – Bois Secret
Bois Secret stands out with its fresh spicy aromas and conjures up a special fragrance experience with a hint of the Orient for everyone with bergamot, black pepper, nutmeg and sandalwood. It exhilarates the mind and is distinctive because it comes with unique neroli. Super suitable for an oriental dinner during a sunset on vacation or to get some exoticism into everyday life.
Laboratorio Olfattivo – Esvedra
Esvedra by Laboratorio Olfattivo evokes the beautiful island of the same name in the Mediterranean Sea, known for its unique charm and beautiful sunsets. The fragrance is an interplay of powdery and fresh fragrance notes such as musk, vetiver, lemon and coriander. The fragrance smells like freshly washed laundry drying outside on a hot summer day – fresh, powdery and clean.
Alex Simone – Villa Simone
Villa Simone by Alex Simone is reminiscent of a fresh summer morning, where the first rays of sun hit the skin with a light sea breeze: fresh, clean and citrus. Through the fresh citrus, tangy bergamot and sweet-floral jasmine, you start the day with energy. A fragrance that fits perfectly into everyday life.
Parfumerie Particuliere – Blue Mandarine
Blue Mandarine by Parfumerie Particuliere embodies the sunrise and sunset on the Amalfi Coast of Italy. Fruity and tart notes of mandarin and grapefruit meet the sweet scent of neroli. The spiciness of ginger gives the fragrance depth and that special something. Perfect for a balmy summer night in a beach cafe or the hippest city bar: for her in a light summer dress or him in a white, loose linen shirt.
---
Follow us on social media for more fragrance news, behind-the-scenes insights and spotlights on the most popular luxury perfumes. If you need help, feel free to drop us a line at [email protected].
See you soon, your PAFORY team 🤍