Perfumes with vanilla have a very special effect: they have an aphrodisirant effect, make you happy and want more. They awaken our fondest childhood memories, for example, of baking at Christmas time. You know, when you nibbled the dough straight from the bowl, because it was already so delicious even raw.
Vanilla scents do not make you fat!
Instead of snacking on cookie dough, you can simply spray the sweet scent of vanilla on your skin. But vanilla scents also do well in summer. They take us to the most beautiful beaches in the world and remind us of delicious cream cocktails with vanilla syrup and honeydew melon. As a gentle companion, vanilla lends a certain charm to the most diverse fragrance compositions. People often use its aroma in the base note to keep the sweet, delicious scent going for hours.
I can't deny it: Fragrances with vanilla fascinate me again and again and have never disappointed me! My following favorites could hardly be more different – there you see how diverse and combinable this ingredient in perfume is.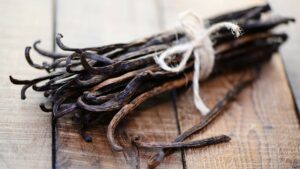 Vanille Patchouli – Molinard
Vanilla Patchouli is an exquisite paradox of provocation and delicacy. These two fragrances merge irresistibly into a spectacular, magnetic attraction. Spicy vanilla kisses dark confident patchouli just before midnight in the deepest forest. Warm, woody and balsamic. Like a magic wand, this boldness of Molinard fascinates us: caramel vanilla sweetness, cuddly and comforting. A cozy warming feel-good fragrance with a special touch.
402 – Bon Parfumeur
A gourmand fragrance with a unique vanilla note. 402 opens with soft white flowers and almond notes. The heliotrope offers a milky and sugary facet. The bottom note is slightly spicy and warmed by notes of sandalwood and benzoin. A delicious dessert. A caressing, velvety vanilla. Almond blossom and heliotrope combine to enrich this bourbon vanilla with its powdery facets. A shift to woody and musky facets is in the air. Soft and milky sandalwood gives this fragrance warmth, velvety and sweet with a stunning toffee note.
Note Vanillée – Maison Micallef
This eau de parfum presents itself in an irresistible, contemporary version and combines bourbon vanilla with woody as well as amber chords softened by citrus. This devilishly sensual perfume beguiles the senses with bourbon vanilla in its full glory! Note Vanillee breaks with any notion of reason and wisdom, drawing the richness of its amber-gourmand combination from the audacity of opulence. Eau de Parfum evokes the sun that gently warms our skin.
Dark Vanilla – Urban Scents
Dark Vanilla of the Urban Scents brand focuses on the seductive and deeply sensual base of vanilla and its well-known sweet and lovely notes. Combined with the balsamic, woody note of rooibos and soft accents of red tea and honey, Dark Vanilla is a unique fragrance creation. Especially because rooibos has hardly ever been used in classic fine perfumery. The fragrance is completed by a light spiciness of pink pepper and the powdery notes of heliotrope and tonka bean.
---
Follow us on social media for more fragrance news, behind-the-scenes insights and spotlights on the most popular luxury perfumes. If you need help, feel free to drop us a line at [email protected].
See you soon, your PAFORY team 🤍