100% European, transparent and timeless
Before we take on a new brand, it is super important to us that we are also really absolutely convinced of the fragrances, but also of the brand itself. After all, we want them to fit us and our concept, and also appeal to us personally. Anyway, our newcomers from Urban Scents have managed to do just that! 5 fragrances of the brand have finally made it into our store – which are and what makes the brand, I would like to tell you now!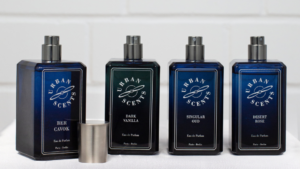 "We have created our perfume collection in line with our values"
Urban Scents is characterized by transparency as well as the fascination of the two founders – Marie Urban Le Febvre and Alexander Urban. The two share a love of perfume and a passion for flying.
All fragrance compositions interpret people as well as spaces and objects. In addition, each fragrance is individual and consists of 30 to 60 carefully selected ingredients, which are mixed with the perfume oils of the small and independent perfume manufactory Accords & Parfums. The fragrances themselves are created in Berlin and the perfume oils are then mixed in Grasse, France.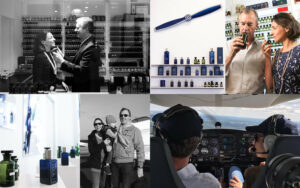 Desert Rose
Desert Rose refers to the beautiful rose – arguably the most romantic of all flowers. The perfume smells aromatic-spicy and inspired by a bouquet of fresh Moroccan roses. In the fragrance combines a velvety warmth with the sensual floral freshness and mineral dimensions. A true classic, enlivened by edgy accents of cardamom and ginger.
Ber Cavok
Ber Cavok is a fresh ozone perfume with a unique inspiration that combines two completely different worlds: Perfume and flying. Spring sky combines the unique fragrance notes of lime blossom with those of musk and nutmeg. The fragrance interprets the crystal blue, ozone-radiant Berlin sky, which is carried by the facets of calone and other mineral notes.
Gunpowder Cologne
Gunpowder Cologne – an invigorating fresh fragrance with a special modern twist. This perfume combines the aroma of green tea with Italian bergamot essence and lavender, followed by light woody notes and a velvety musk accent. Definitely a fragrance that is addictive!
Dark Vanilla
A warm and deeply powdery creation around vanilla introduces, among other things, the diversity of rooibos. This very complex, luxurious fragrance meets gentle associations of hay, red tea and honeycomb in Dark Vanilla. The perfume reveals the dark, balsamic and sensual facets of the vanilla bean and is completed with spicy notes of pepper, heliotrope and tonka bean.
Singular Oud
A perfume that is not without reason as an olfactory bridge between morning and evening: Singular Oud. An interplay of the warmth of oriental fragrances and the refreshment of green fig – ideal for those who are looking for a fragrance with that certain something! A fragrance where precious oud meets notes of rose and saffron and is rounded off by a touch of incense.
---
Follow us on social media for more fragrance news, behind-the-scenes insights and spotlights on the most popular luxury perfumes. If you need help, feel free to drop us a line at [email protected].
See you soon, your PAFORY Team 🤍