We have exciting fragrance news for you – there are once again new luxury fragrance brands to sniff at PAFORY. One of them is Orlov Paris, an absolutely unique and luxurious brand that we are 100% convinced of and proud to finally introduce to you. This post is all about Orlov and their splendor perfumes, which are now available with us.
Thomas Méaulle und Ruth Sery de Solokou
It all started in 2009, when Thomas Méaulle met a young woman with a very special name at a trendy and chic party in Paris: Ruth Sery de Solokou. A woman with style and class whom he absolutely had to approach. For Thomas, he says, she was the mysterious «black panther» because of her «feline» beauty. Apart from her, Méaulle was passionate about precious stones and perfume, and at the time was working in finance. Ruth was already considered a diamond expert at the time; she had just graduated from HRD Antwerp. HRD Antwerp is still working today to develop an innovative new diamond database for faster jewelry appraisals.
The lost diamond
In any case, Ruth was at least as fascinated by the world of fragrances as Thomas, and had recently moved to Paris. On the evening of the party, Thomas felt attracted to her – especially because of the fragrance she was wearing – so he ended up asking her about it. This developed into an hour-long conversation about the passion for gemstones and perfume that they both share. Ruth then decided to show Thomas her world: the stones she works with and the jewelry she designs. The joint creation of Orlov came about when Thomas finds a lost diamond under a perfume box, which for him was the main trigger for the brand idea.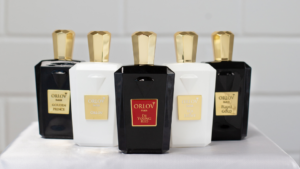 Flame of Gold
Smoky, sweet and spicy: a dazzling vitality as a creation of the «golden flame». An oriental fragrance which interprets a luxurious and sensual combination of dark chocolate, tonka bean and leather. Inspired by an award-winning 29-carat yellow diamond, the perfume conjures warm, red-gold rays cast by its myriad facets.
Orlov
The main nuance of this gemstone perfume lies in a fascinating interplay of the precious flowers of roses and jasmine amid delicious red fruits. The fragrance is considered a strengthening talisman and charisma booster, which is complemented by creamy-sweet orange blossoms and carried by a touch of musk.
De Young Red
The most magnificent red diamond in the whole world – this is probably De Young Red by Orlov. Stunning red conjures maximum vitality – as well as the unique feel-good formula of citrus, rose and jasmine. In addition, amber, sandalwood and musk are included, which give the fragrance a certain energy.
Sea of Light
An aromatic creamy perfume, almost like a flash of light on the skin, which is the perfect contrast between warm and cold. Sea of Light fuses the metallic freshness of citrus with the power of seductive spices and draws inspiration from the diamond of the same name – the «Sea of Light», one of the world's most brilliant diamonds with an astonishing 182 carats.
Golden Prince
Golden Prince alludes to the popular drink of New York's Golden Boys and, accordingly, evokes the aroma of a freshly made gin and tonic with a bubbly combination of grapefruit, pink pepper and juniper berry. Fresh, spicy, woody: the «golden prince» – named after a fabulous brown diamond exhibited at the Paris World's Fair and the American Museum of Natural History.
---
Follow us on social media for more fragrance news, behind-the-scenes insights and spotlights on the most popular luxury perfumes. If you need help, feel free to drop us a line at [email protected].
See you soon, your PAFORY team 🤍