Cold days, warm scents
Every fragrance has its own season! After all, there are perfumes that give us a particularly cozy, warm feeling. We think of the fluffy, freshly washed cuddly sweater, the end of the day in front of the fireplace or the smell of the Christmas market with its delicious punch-almond aromas. Characteristic for warm scents are for example spices, cinnamon, incense or sweet gourmand notes of vanilla or sugar. Here you can find our favorites for the upcoming winter!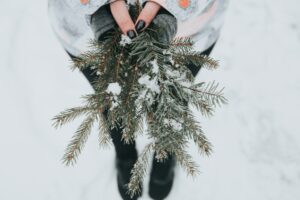 Molinard – Ambre
An unforgettable journey to the magical lands of the East! Ambre is designed to keep the secret of seduction and reveals the sophistication of a noble and exclusive affair. This eau de parfum offers elegance in a shimmering tone, for a contemporary olfactory interpretation of the Molinard myth.
Nishane – Fan your Flames
Fan your Flames evokes a beautiful, quiet night in the company of loved ones, smoking a pleasantly intense shisha and enjoying life. It is a smoky, woody-spicy fragrance inspired by one of the most important Persian poets – Rumi, who considers love as the main force of the universe. The perfume is – according to Rumi – to make the inner fire in you burn: "Set your life on fire and seek those who fan your flames".
Giardino Benessere – Bianco Laos
The fragrance is inspired by the hippie music and fashion of the 70s. A perfume dedicated to the lightness of that time, to awaken memories deeply hidden in us. But at the same time, Bianco Laos carries the character of a very metropolitan and contemporary world – created to become a symbol as a tribute to all those years of peace and love. Bianco Laos makes a real statement – with decisive, provocative and narcotic scents that make up the unique character of the fragrance.
Olfactive Studio – Chypre Shot
Chypre Shot evokes moments in infinite space, surrounded by nature, yet alone. A refreshing feeling of the wind, moisture that is in the air, yet always warm-scented advancing. A smoky spice together with the power of nature forms this impressive fragrance experience that convinces with an imposing soul.
Parfumerie Particulière – Madeleine
A ravishingly refined sweetness and warm, rich yellow rays of sunshine that warm and beguile you. Madeleine convinces in an elegant, sweet as well as warm way and captivates every nose. The fragrance is mysterious, unique and powerful.
---
Follow us on social media for more fragrance news, behind-the-scenes insights and spotlights on the most popular luxury perfumes. If you need help, feel free to drop us a line at [email protected].
See you soon, your PAFORY team 🤍