Distinctive and charismatic
The creator of the luxurious Gravel New York brand – Michael B. Knudsen – began to pursue his dream of creating his own perfume in the 1950s. At that time, he started his first own collection – although no one had any idea of the success that would await him in the history of perfume. Indeed, to this day, it is said that the entire fragrance industry in America has benefited from Knudsen, his pioneering spirit and visionary genius. He eventually dedicated his entire life to the development of the brand, putting all of his charisma, connections and energy at Gravel's service.
All bottles are filled by hand and contain gravel from the Hudson River. The idea came to Knudsen after a walk along this river with the desire to stand out from the conventional perfume bottles. Since the first bottle was sold in 1957 in New York on 46th Street, Michael B. Knudsen remains unforgotten through each of his fragrances.

Knudsen's extraordinary life
Gravel fragrances are the essence of an eventful and long life. They are always inspired by Knudsen's exciting life journey, which began in Scandinavia in 1911. Life first took him across the wide ocean to America (Across the Ocean), where as a young, handsome man he succumbed to the promise of the American Dream. This period was considered the golden era of Hollywood and Knudsen also fell for the charms of the film industry. He was part of several film productions and thus got to know the world of show business. Probably that's where his extravagant lifestyle and penchant for beauty came from.
Through these experiences, he wanted to transport a piece of all this into the new era of America – with a perfume that captured all his experiences, convictions and promises. Thus was born his very first fragrance: A Man's Cologne – which is actually considered to be the first men's perfume in the U.S., since until then it was mainly aftershaves that were common.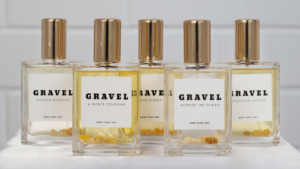 A Man's Cologne
Balsamic, citrus and spicy: a distinctive high-quality fragrance that comes alive with hints of orange and tonka bean. A very sensual perfume that has a warm yet fresh orientation. A Man's Cologne – the first men's perfume in the US and the first creation of Gravel perfumer Michael Knudsen.
46th Street
This modern fragrance is woody-balsamic and characterized by beguiling as well as intense notes that interpret a true seduction through incense, amber and musk. The included forest berries and flowers of jasmine create a pleasant, young freshness, underlined by birch and precious woods.
Across the Ocean
Across the Ocean has fresh, light floral accents with impressive woody-spicy undertones. Rose, guaiac wood and musk take us on a journey on the luxurious overseas steamers that once sailed between the Old World, Europe and the USA. A fragrance that combines classic fragrances in a very unique way and thereby reinterprets them.
American Dream
This perfume is dedicated to the famous and alluring American Dream, bringing a summery and at the same time elegant, sensual mood. Woody nuances give the fragrance a gentle structure, which is fused by jasmine, lavender and basil to create an interesting, luxurious composition. American Dream is reminiscent of a late summer stroll along the Hamptons beaches – just outside New York.
Hudson River NY
This eau de parfum smells initially citrus-floral and unfolds its full aromas after a short time of wearing on the skin. A woody, spicy note develops, which is delicately rounded off by a gentle vanilla note. Hudson River by Gravel New York interprets the special concept of the brand par excellence – named after the river where Michael Knudsen got the idea for Gravel.
---
Follow us on social media for more fragrance news, behind-the-scenes insights and spotlights on the most popular luxury perfumes. If you need any help, feel free to drop us a line at [email protected].
See you soon, your PAFORY Team 🤍