What is more personal than a fragrance?
Among the most popular gift ideas have always been individual gift vouchers and perfume. With fragrances we associate special emotions and especially beautiful moments that we remember with pleasure. Perfume is therefore a wonderful gift for someone you particularly appreciate and like.
However, finding the right perfume can be really difficult. Which fragrance is the right one? Will the person like it? Does it fit his/her personality? We'll make it easy for you: here are innovative perfume gift ideas that everyone will love.
An exclusive perfume gift set
If you're not sure which scent the person will like, you can give them a little choice with our gift sets. They all relate to one scent direction and are filled with lovingly selected niche fragrances to brighten everyone's day with. Included in each is a PAFORY case and three hip 8ml fragrances that match the fragrance type of the set. In our premium packaging, they make quite a statement.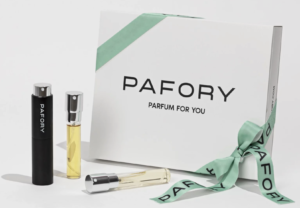 The most flexible option: a voucher
To give the person the freedom to decide completely for themselves, a value voucher or a perfume subscription could be the right thing.
You can give away 3, 6, 9 or 12 months of PAFORY membership. You can print out the PDF voucher from the comfort of your own home and add a personal message. The presentee can then use the fragrance calendar in his profile to choose which fragrances he would like to have in the coming months. This way, the lucky person can enjoy your gift for months.

---
Follow us on social media for more fragrance news, behind-the-scenes insights and spotlights on the most popular luxury perfumes. If you need help, feel free to drop us a line at [email protected].
See you soon, your PAFORY team 🤍