What is more personal than a perfume? That's right, several! For many years, the most popular gift ideas have included individual gift certificates and perfumes. With fragrances we associate emotions – beautiful moments that we like to remember. Sometimes we perceive a scent that we can't classify at first: we smell it, smile and smile. And there it is – the beautiful memory that a fragrance has brought back to us.
Give the gift of a journey through the world of fragrances
We have thought of a gift for numerous beautiful moments: a voucher for a perfume subscription for 3, 6, 9 or 12 months. Without risk of giving the wrong perfume, because your loved ones choose their own fragrances and tell us about it via the fragrance calendar.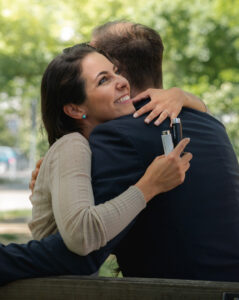 The gift subscription works very simply:
It's a PDF voucher that you can buy and print from the comfort of your own home. You can also personalize it with a message – sweet, isn't it? The recipient can then use the fragrance calendar in his or her profile to choose which fragrances he or she would like to have in the coming months. This way, the lucky person will have months of enjoyment from your gift.
To start with, you get an elegant and practical twist-and-spray case. The selected perfume supply, which is sufficient for at least one month, comes in 8ml vials, which feel most comfortable in the case. In order not to lose the overview, you can quickly sort the perfumes via our filters to brand, occasion or intensity, for example.
In the future, the presentee can link his new fragrance treasures with new moments – or perhaps even directly with you. For sure, the person has the right fragrance for every occasion! By the way, we also have various normal gift cards, if you don't want to give away a subscription. But you will definitely stay with the person longer – believe me.
---
Give the gift of fragrant memories with PAFORY! If you have any questions, please feel free to contact us at help@pafory.com. Otherwise, you can find regular updates about luxury perfume on social media. We look forward to seeing you!
Your PAFORY Team